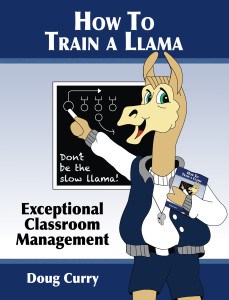 Llama Rule #1
Nice is strong. Nice is powerful. Nice changes lives. Nice is relational. Nice is loving. Nice never gives up.
Llama Rule #2
See Llama Rule #1.
Books includes resource CD.
Teachers are like a herd of llamas, running through the grass. Kids can be vicious tigers, looking for a victim. Are you the slowest llama? Don't be the slowest anymore! Come learn how to successfully manage your students, whether you are elementary, middle, or high school. The techniques you will learn are meant to empower you to be able to manage your class in a confident and happy manner and to create the best possible environment for learning. These are proven techniques that are being successfully used in schools across the U.S. Run fast, little llama!
A TurnAround™ Schools Publication.